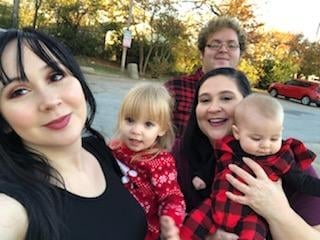 Currently over 4,000 returning citizens released under the Cares Act are left to wonder if they will be returned to prison once the pandemic ends.  Individuals, such as Caroline Berrio (story below), have reunited with family, regained custody of their children, obtained employment, purchased automobiles, and leased housing.  They are true success stories and embody exactly what reentry into society after prison should look like.
Many organizations such as FAMM, CAN-DO, ACLU, and others are begging the President to do something.  Thus far, the Biden Administration has been unmoved in granting clemency or another form of relief to those released under the act.
With the Delta variant ramping up inside prisons across the country, there would seem no valid reason for the President to return over 4,000 individuals to a deadly situation.  Just yesterday, the ACLU put out a damning report regarding the BOP's failures during COVID-19 last year https://www.aclu.org/news/criminal-law-reform/documents-foreshadow-a-grim-future-for-covid-19-spread-in-federal-prisons/.  #KeepThemHome
By: Caroline Berrio
My name is Carolina Berrio.  I am currently home under the CARES Act.  When I was 32 years old, I found myself with two children in a controlling marriage.  I had to take a long hard look at my life and what I was subjecting my children to.
I left my husband and began trying to support myself and two children on my own. Despite being an educated woman, each month, I had more bills left than money.  I began to act out of desperation.  I did not want to put myself or my children back in danger, so I began looking for ways to supplement my income.
I had a "friend" tell me how I could make extra money.  This person told me I could go to the doctor, obtain prescriptions, and then sell the pills that I had received.  I began to do this, thinking this was not a way of life, but a quick fix to a temporary problem.  That, however, was not the way it ended up.  I continued to do this for a couple years and finally was caught.  This was a federal crime, so I was sentenced to six-and-a-half years federal time.
My children had never been away from me and were sent to live with my mother, who was battling heart disease.  Needless to say, two teenagers placed an extreme pressure on my mom.  The whole family was traumatized by the results of my foolish choices.
I reported to FPC Bryan to begin my sentence.  I found myself surrounded by ladies with many of the same issues that I had.  I was surrounded by mothers, many of them single, daughters, wives, even grandmothers, all reaping what they had sown.
I determined to make the best of my time.  I worked for UNICOR.  And took small business management classes through Blinn college.  I am asthmatic and walked a lot to try to become healthier.
I surrounded myself with ladies who wanted to better themselves during their incarceration.  We had bible studies and support groups to lift our spirits.  I have always been a crafty person, so I began to teach other ladies the skills I had.  We made gifts for our families.  It was a way to reach out to those who were paying the price for our decisions.
I prayed each day for my kids and my parents.  My daughter became pregnant and had two children while I was incarcerated.  She dropped out of school and seemed lost without me.
Fast forward to being released on the CARES Act after serving four years of my six-and-a-half-year sentence.  Since coming home, I have gotten a job and an apartment.  My daughter has finished her GED and is now enrolled in a cosmetology course.  She and her two children have moved in with me.  I can provide childcare for her while she goes to classes. My son is living independently in an apartment which I helped subsidize while he got on his feet.
My children's father has recently died.  If I were to be returned to prison, my daughter and grandchildren would be homeless.  I have worked very hard to provide a stable home for all of us. I pray that by showing successful reintegration into society, that the powers that be will allow me to remain home.
I pray that I will be the best mom, daughter and grandmother I can be.  I want to show others that while you may fall, you can also rise above your circumstances.  I hope to share my story to others and be a great example of grace.
Bottom