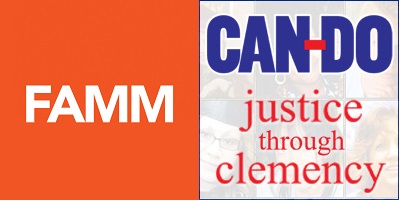 A joint letter from FAMM President, Kevin Ring, and CAN-DO President, Amy Povah, was sent today to Director Carvajal of the Federal Bureau of Prisons (BOP), with a  carbon copy sent to Attorney General Merrick Garland.
The letter  urges the director to "act more carefully in reviewing alleged disciplinary infractions by those serving on home confinement pursuant to the CARES Act."
Currently over 4,000 individuals released under the act wait in limbo, wondering daily if they will be returned to prison once the pandemic ends.  These individuals have reunited with family, regained custody of their children, obtained employment, purchased automobiles, and leased housing.  They are true success stories.  They embody exactly what reentry into society after prison should look like.
Thus far, the Biden Administration has been unmoved in granting them clemency or another form of relief.  The hashtag, #KeepThemHome, has been circulating on social media platforms such as Facebook and Twitter.  Many organizations such as FAMM, CAN-DO, ACLU, and others are begging the President to do something.
Another concern is that some Cares Act releasees have already been violated for minor infractions and returned to prison.  Take the case of six months pregnant Raquel Esquivel, who was violated for what the BOP claims was escape.  Individuals who have been violated were taken back to prison, or are being held at county detention centers, awaiting return.  The BOP claims Raquel was violated for failing to make phone calls to the Dismas Charities Half-Way House in Del Rio, Texas, on March 4, 2021.  Raquel's phone records and witness statements from her employer, LuAnn Hutto, and a co-worker, prove this was not the case.  The letter from FAMM and CAN-DO ask Director Carvajal to "look into her case and vacate the charges."
When asked about the letter, Kevin Ring, the President of FAMM, told me "While the Biden administration hems and haws about whether to bring 4,000 people back to prison, we don't want the BOP to bring them back one at a time for minor violations.  It makes no sense."
While it certainly makes no sense, that is exactly what has been occurring in recent months.  For example, I was violated in January of this year, for communicating by way of the BOP's monitored email system with women I met while serving time in prison.  Melanie Brandt was violated and returned to prison in March, for placing money on the commissary accounts of women she left behind when she was released.  Gwen Levi the 76 year old grandmother who took the news media by storm, was violated for not answering her cell phone while she attended a computer class.  Fortunately, Levi was granted compassionate release shortly thereafter, much like myself.
In June, Keri Burroughs was violated for escape for what appears to be a faulty GPS monitor, and claims by the City of Faith Half-Way House in Little Rock, Arkansas, that she was not allowed to be in a storage trailer some 30 feet from her home.  The storage trailer sits on the same plot of property, where Burroughs was serving the remainder of her sentence on home confinement.  She now resides at the Pulaski County Detention Center, where she awaits return to prison after losing 41 good time credit days as punishment.
In May, Jeffrey Martinovich, was violated and returned to prison for not answering his telephone while sleeping.  He too, was violated for escape, like Raquel Esquivel, even though the BOP's own GPS data showed he was at home the entire time.  Recently, the BOP admitted its mistake in the Martinovich case and he was returned back to home confinement.  Martinovich's case highlights the lack of common sense being used by half-way houses, and the BOP, when managing minor infractions of those who have been released under the Cares Act.  Especially given the documentary evidence in both the Martinovich and Esquivel cases, which shows there was no such violation.  This was something the joint letter to Director Carvajal pondered as well, "we are left wondering why so little common sense is being applied in the decisions to return people to federal prison."
Amy Povah, President of CAN-DO, is optimistic that the director will do the right thing.  She told me, "I'm extremely hopeful the director of the BOP will look into Raquel's case and see that she is the last person in the world who should be in a county facility with a 7 month old child in her womb.  It wasn't that long ago when Congress expressed concern about Andrea Circle Bear, who passed away on a ventilator, after giving birth to her child and if my memory serves me correctly, there was a promise to remove all pregnant women from institutions."
However, Povah also sees a much bigger issue.  She went on to say, "This is a human rights violation and possibly one of the most egregious cases I have ever heard of.  To be clear, Raquel's original charge and first offense was for a dry marijuana drug conspiracy. She's never been a threat to society and now, due to a marijuana charge, she's caught up in a cobweb of systemic abuse that must change.  We need reform from the top down and the bottom up.  Staff must be retrained to look at mitigating circumstances, and apply logic, instead of an iron fist or one-size-fits-all approach, that has become common within the Bureau of Prisons and the Dept of Justice."
The joint letter also urges the BOP "to review more carefully every decision to revoke home confinement status for people sent home under the CARES Act. Please look at the decisions in Ms. Esquivel's case and others in which the people have already been returned. Also, review future allegations going forward to prevent situations in which a misunderstanding or minor infraction result in someone spending years more in prison, especially as the COVID-19 virus begins to threaten our prisons again. If necessary, issue written guidance instructing halfway house managers to show extra restraint when handling minor or technical infractions of conditions by people on CARES Act confinement."
This constant threat of being returned to prison wears heavily on individuals I've interviewed, who were released to home confinement under the Cares Act.  Many have been home for more than a year, working hard to be productive citizens.  The Office of Legal Counsel's (OLC) memo, that was left behind by the Trump Administration, has recently been upheld by the Biden Administration.  Being returned to prison due to the language in that memo would be worry enough for anyone.  However, Cares Act releasees must also live in daily fear of being violated for minor infractions, with the added stress of watching others in their same position, being violated and returned to prison, one by one.  Something that is hard to bear for many.  #KeepThemHome
Bottom