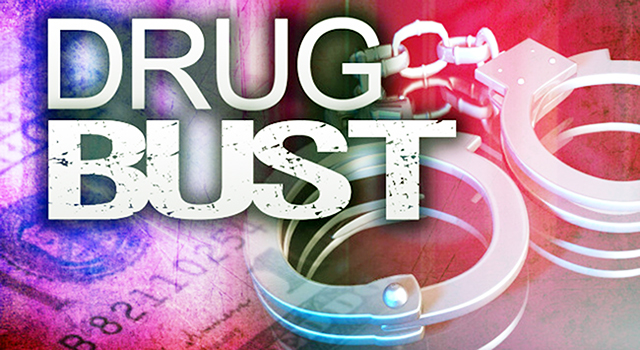 SAN DIEGO – A wave of hundreds of arrests that began in Australia and stretched across Europe culminated today with the unsealing of a federal grand jury indictment in San Diego charging 17 foreign nationals with distributing thousands of encrypted communication devices to criminal syndicates.
The 500-plus arrests that took place during a worldwide two-day takedown were possible because of a San Diego-based investigation like no other. For the first time, the FBI operated its own encrypted device company, called "ANOM," which was promoted by criminal groups worldwide. These criminals sold more than 12,000 ANOM encrypted devices and services to more than 300 criminal syndicates operating in more than 100 countries, including Italian organized crime, Outlaw Motorcycle Gangs, and various international drug trafficking organizations, according to court records.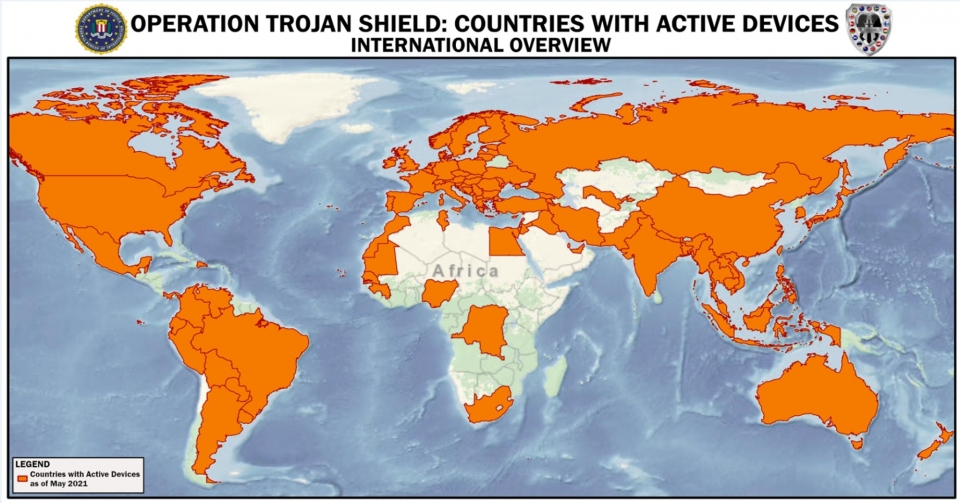 During the course of the investigation, while ANOM's criminal users unknowingly promoted and communicated on a system operated lawfully by the FBI, agents catalogued more than 27 million messages between users around the world who had their criminal discussions reviewed, recorded, and translated by the FBI, until the platform was taken down yesterday.
The users, believing their ANOM devices were protected from law enforcement by the shield of impenetrable encryption, openly discussed narcotics concealment methods, shipments of narcotics, money laundering, and in some groups—violent threats, the indictment said. Some users negotiated drug deals via these encrypted messages and sent pictures of drugs, in one instance hundreds of kilograms of cocaine concealed in shipments of pineapples and bananas, and in another instance, in cans of tuna, in order to evade law enforcement.
The indictment charges 17 alleged distributors of the FBI's devices and platform. They are charged with conspiring to violate the Racketeer Influenced and Corrupt Organizations Act (RICO), pertaining to their alleged involvement in marketing and distributing thousands of encrypted communication devices to transnational criminal organizations worldwide.
During the last 24 to 48 hours, in addition to the more than 500 arrests around the world, authorities searched more than 700 locations deploying more than 9,000 law enforcement officers worldwide and seized multi-ton quantities of illicit drugs.
Grand totals for the entire investigation include 800 arrests; and seizures of more than 8 tons of cocaine; 22 tons of marijuana; 2 tons of methamphetamine/amphetamine; six tons of precursor chemicals; 250 firearms; and more than $48 million in various worldwide currencies. Dozens of public corruption cases have been initiated over the course of the investigation. And, during the course of the investigation, more than 50 clandestine drug labs have been dismantled. One of the labs hit yesterday was one of the largest clandestine labs in German history.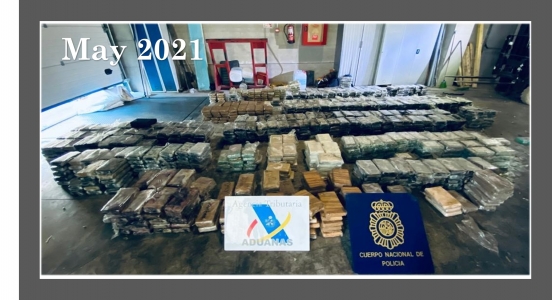 "Today marks the culmination of more than five years of innovative and complex investigative work strategically aimed to disrupt the encrypted communications space that caters to the criminal element," said Suzanne Turner, Special Agent in Charge of the Federal Bureau of Investigation (FBI) – San Diego Field Office.  "The FBI has brought together a network of dedicated international law enforcement partners who are steadfast in combating the global threat of organized crime. The immense and unprecedented success of Operation Trojan Shield should be a warning to international criminal organizations  – your criminal communications may not be secure; and you can count on law enforcement worldwide working together to combat dangerous crime that crosses international borders.
"The AFP and FBI have been working together on a world-first operation to bring to justice the organised crime gangs flooding our communities with drugs, guns and violence," said AFP Commissioner Reece Kershaw APM. "The FBI provided an encrypted communications platform while the AFP deployed the technical capability which helped unmask some of the biggest criminals in the world. This week the AFP and our state police partners will execute hundreds of warrants and we expect to arrest hundreds of offenders linked to the platform. This is the culmination of hard work, perseverance and an invaluable, trusted relationship with the FBI.
We thank the FBI for their long and integral partnership with the AFP."
Europol's Deputy Executive Director Jean-Philippe Lecouffe: "This operation is an exceptional success by the authorities in the United States, Sweden, the Netherlands, Australia, New Zealand and the other European members of the Operational Task Force. Europol coordinated the international law enforcement community, enriched the information picture and brought criminal intelligence into ongoing operations to target organised crime and drug trafficking organisations, wherever they are and however they choose to communicate. I am very satisfied to see Europol supporting this operation and strengthen law enforcement partnerships by emphasizing the multi-agency aspect of the case."
Bottom